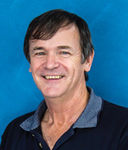 Ken
Managing Director
Ken has had 39 years in the print industry,
29 of those he has run his own print businesses.
Aaron
Graphic Designer
Aaron holds a Certificate IV and Diploma in
Graphic Design and has been with
us since 2015. He was the joint GOTAFE
Student of the Year and Sports, Arts and
Media Student of the Year in 2012, upon
completion of his diploma and also has
been the recipient of the Bainz Design Award
for Outstanding Achievement in Graphic Design.
More recently his designs for the Shepparton Festival
helped them secure the Bronze Award from the
RACV Victorian Tourism Awards in 2015 and 2017.
Aaron's designs for theatrical programs have seen
him receive commendations from the Victorian Music
Theatre Guild in 2015, 2018 and 2019. He also
received a Georgy Award nomination for his designs
in 2018 and followed up again in 2019 with a Georgy
Award for same.